OKbase Intranet is linked to the data in OKbase. It automatically updates personal employee information, onboarding and offboarding data, employee directories, and more. It is accessible through a web interface and offers the following features:
Articles
Contact Directory
Wiki
Newcomer Pages
Event Calendar
Photo Gallery
Banner Slider
Links
Surveys
New Employees
Discussion Forum
Basic Company Information
Attendance Monitoring
Building/Office Plan
We have developed a user-friendly and neat system to ensure a pleasant experience for both you and your employees. You can access it anytime and anywhere through the web browser on your smartphone, tablet, or computer. Employees do not need to install any additional applications. The advantages of OKbase Intranet include:
Czech language support
Responsive web interface
Transparent editorial system
Cloud-based secure service – "We take care of it, you enjoy it."
2 levels of the content display for users. Access to articles (news, information, photo galleries), the wiki, and surveys can be controlled at 2 levels – all employees/ managers.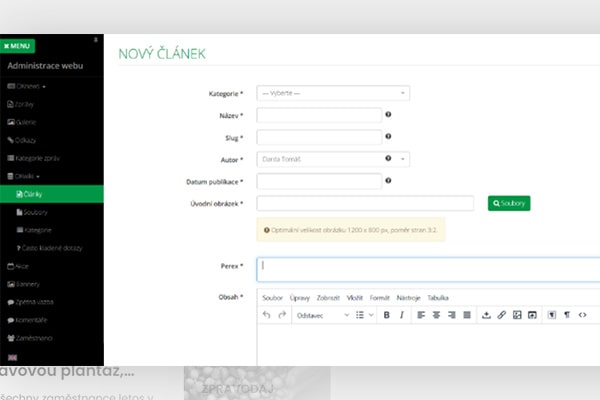 OKbase Intranet Administration
Publish articles instantly, without having to wait for a programmer, agency, or marketer to find the time. With OKbase Intranet, you have the power to publish new articles or update content on your intranet in just a few clicks.
The administration process is user-friendly and straightforward. It is accessible through any internet browser, eliminating the need for complex installations or programming knowledge. You can create articles and posts effortlessly using a convenient web form that guides you through the process, ensuring all required fields are filled correctly.
Furthermore, each category maintains a comprehensive history of previously created content. You have the flexibility to deactivate specific articles temporarily and reactivate them whenever needed. This feature allows you to recycle and repurpose existing articles, saving time and effort in content creation.
Do you have any questions or would you like more details about specific features?
Please fill out the inquiry form or schedule a live intranet presentation.
Contact for more information and orders:
OKbase Sales Department, tel. +420 236 072 323, e-mail: okbase@oksystem.cz.
News
The news section forms the foundation of the intranet. Here, you can publish informative articles for employees, categorise them into several basic groups, and assign tags for easier searching of related topics. The news articles are sorted chronologically, with the latest ones appearing first. Readers can react to them by commenting, tagging them with" hearts," or saving them for later reading. You can also set up email notifications to be alerted when a new article is published.
To highlight an article on the main page, you can feature it in the introductory banner by adding one or more image banners to the slider. Clicking on the image can redirect to any desired link, such as the article itself or the calendar.
Contact Directory – Employees
Have all the official employee contacts conveniently in one place. Full data synchronisation with the OKbase system is available for all personal information.
The alphabetical list of employees includes details such as photos, contact information, job positions, team assignments, and the latest attendance records (e.g., arrival at work, remote work, vacation, break, medical leave), etc. The list allows searching by name or other data and provides contact information, position details, date of joining, supervisor(s), information about colleagues in the same department, and the latest attendance record.
In case the OKbase Intranet is integrated with the access control system data (which is a separate service not included in the base price), you can also see more precise information about the employee's current location within the building.
Wiki
An easy and intuitive way to manage and share company materials and manuals. Place materials, documents, links, and articles that are necessary for both new and existing employees. This can include a list of benefits, organisational structure, internal guidelines, templates, and guides.
Newcomer Pages
Employees who have been with the company for less than six months have a special information section at the top of the OKbase Intranet homepage. When they expand this "welcome window," they will see not only a welcome message but also useful links to help them navigate and adapt to the company more easily.
Company Events Calendar
Insert events and occasions that you wish to notify your employees about into the calendar. Events are categorised as internal and external, and each event has its own subpage where you can provide additional information. The upcoming events are displayed on the intranet's homepage. It is easy to add any event to the company calendar with just one click.
Photo Gallery
Say goodbye to the hassle of sharing photo links on shared drives. OKbase Intranet's built-in photo gallery allows you to share your photos with all employees easily. Create dedicated albums for each event or occasion with an introductory text. Browsing through the gallery is a pleasant experience, if needed, employees can conveniently download the entire album as a zip file.
Building and Offices Floor Plan
Do you have a detailed floor plan that outlines individual offices and workspaces, along with information about employees' assigned workstations? OKbase Intranet offers the option to integrate this floor plan seamlessly. By incorporating the floor plan into the intranet, employees can easily navigate and locate various areas within the building. Please note that the cost of integrating the floor plan will be determined on a case-by-case basis.
Monitoring
This feature helps you stay updated on the activities of your colleagues. By setting up this "watcher," OKbase Intranet will send you email notifications, for example, when a selected colleague starts working remotely. If you require more detailed monitoring integrated with access control system information, we can provide it as an additional service beyond the standard implementation.
Employee Forum
The forum allows employees to freely post their contributions. Other employees can add comments to individual posts. A red dot in the forum header indicates the presence of unread posts. Our colleagues use the forum to find sports and leisure activity partners, share their homemade creations, report lost and found items, or even offer last-minute theatre tickets that would otherwise go unused. It is a versatile platform for various discussions and interactions among employees.