Savings
Switching to our payroll outsourcing means you will also get a professional OKbase solution to attendance and the personnel system together with a web application for electronic sending and confirmation of all tax and payroll documents.
Dependability
You no longer have to worry if your payroll accountant is sick, going on maternity leave, has given notice, or is getting retired. Our team will always ensure and meet your payroll deadline.
Sustainability
We eliminate unnecessary printing of documents. Employees can view their pay slips and pension insurance records on their phones or computers. The annual signing of Taxpayer Declarations or Requests for Annual Tax Settlement can be done electronically as well.
Regulatory timeliness
We process payrolls in programs that we develop ourselves. Our developers make sure that the programs are readjusted on time to the latest regulatory changes.
Discretion
Outsourcing payroll processing guarantees a confidentiality of information about the company's payroll policy. Wages can be sent from special subaccounts of our company.
Expertise and helpfulness
Our coworkers are well-qualified in payroll processing, the Labor Code, taxes, wage-garnishment issues, and travel reimbursements. You will always get qualified answers to your questions.
Fewer worries, more experience
You get experienced payroll accountants without needing to worry about their continuous training, hardware acquisitions, regular software updating, archiving data, substituting accountants in case of illness and holidays etc. Every month, our 35 payroll accountants calculate more than 16,000 payrolls for our customers employees (as of 12/2021).
Outsourcing tailored to your needs
We run payroll outsourcing on our information systems, and we have been producing payroll programs for over 30 years. Our programmers work closely with our accountants. That means we respond flexibly to changes in tax and employment regulations as well as to your specific requirements for payroll customization. With us, you can easily extend your payroll processing service to include personnel management and attendance tools.
Paperless payroll processing
We are planning to fully computerize the entire payroll process. Using the web application of the OKbase attendance and personnel management modules eliminates unnecessary administration and sending of documents by post. Employees can send and receive taxpayer declarations, pension insurance records, Requests for Annual Tax Settlement, taxable income certificates, and pay slips to and from the payroll accountant directly on their computers or mobile phones. This is less time-consuming and more environmentally friendly.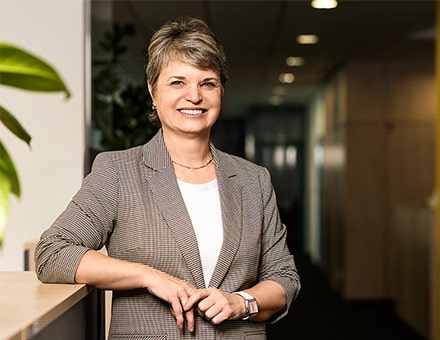 Ivana Hamplová has been running the Payroll Outsourcing department at OKsystem since October 2021. She graduated from the University of Economics in Prague and has been working in payroll processing since 1992. For the past 15 years, she has been running payroll outsourcing departments at two major international tax and consulting companies, where she gained experience not only in payroll outsourcing for various types of client processing, but also in the employment of foreigners and expats from abroad.
Ing. Ivana Hamplová
Head of Payroll Outsourcing, OKsystem
Can you handle bulk entry?
Yes, payroll files can also be submitted to us in bulk. We can process outputs from your attendance system as well as files with prepared bonuses or deductions.
Will you prepare an output for the financial accounting?
Yes, of course. We guarantee updates. The system is always prepared in accordance with valid tax and labor law regulations. Based upon a detailed analysis, we prepare a file every month that you will simply input to your financial accounting.
Is the scope of the payroll processing limited in any way? Must all employees have access to the internet?
We can process any number of payroll files, so the number of personnel is not limited. In case an employee does not have access to the internet, we can arrange for pay slips and other documents to be sent by post.
Will you send out the wages to the employees for us?
Yes, this is possible. If you subscribe to our Bank Account Rental service, you simply transfer the total amount to the account before the payday and we will take care of sending the payroll to the individual employees.
OKbase supports electronic communication and can reliably calculate tens of thousands of payrolls.